The third annual Lullaby of the Rivers Festival takes place on Earth Day weekend, April 21, 22 and 23, 2023. The festival is held in Vilano Beach at North Shores Community Park, 120 Meadow Avenue, St. Augustine, FL 32084.
The Lullaby of the Rivers Festival features outstanding live music on the outdoor Rivers Stage throughout the weekend. A second stage in the Community Center offers music, stories and an Open Mic, with tables where people can eat while enjoying performances. Food trucks and vendors are located nearby.
Earth Day exhibitors offer interactive activities at booths set up around the festival grounds. Participants learn about the environment and connect with nature through live, educational experiences provided by volunteers and nonprofit organizations.
On Sunday, the festival premieres an Earth Day Tasting Tent. Food and beverage vendors provide a taste of their wares and sell products. The Tasting Tent offers locally grown, organic, or sustainably raised products that demonstrate an alignment with Earth Day values.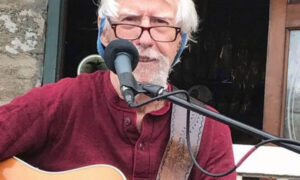 Bob Patterson is a professional songwriter, musician and storyteller. His songs and stories, poetic and evocative, often reveal a deep connection to nature and concern for the environment. His award-winning song, "Lullaby of the Rivers", is the inspiration for the festival. Bob is also a founder, artistic director and past president of the Gamble Rogers Music Festival. He uses his extensive expertise to line up uniquely talented local and regional performers.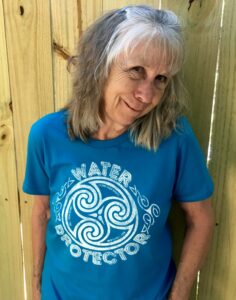 Carol Kramer is an activist, educator and organizer. She organized her first Earth Day event in 1980, inspired by a connection to nature that began as a child playing in the woods and camping with Girl Scouts. She is conscious about the food she eats, the products she buys, and the place where she lives. She draws on experiences like teaching solar energy and practicing permaculture to enrich the festival.
The Annette J. Bruce Lifetime Achievement Award to Bob Patterson from The Florida Storytelling Association in 2014. This award honors individuals in the storytelling community who have dedicated their lives to the art form of storytelling.
The Mother Earth and Fellow Man Award to Bob Patterson from The Stetson Kennedy Foundation in 2011. This award recognizes performers and composers whose lives and works have reflected their concern for the environment or human rights and traditional culture.
Best Florida Song in the North Florida Folk Network song writing contest in 2011. Awarded for "Lullaby of the Rivers" by Bob Patterson.
Best Florida Song in the Will McLean Festival song writing contest in 2018. Awarded for song "Silver Springs" by Bob Patterson.
Inaugural inductee into the St. Augustine Music Hall of Fame in 2018.
The Festival